Here's looking at you, Autumn.
So, my friend Katie is awesome. Like, really awesome. She has a wide breadth of knowledge under belt and the dry wit to match. We bond over our shared misanthropy, our dull office jobs...and makeup. and shoes. We femme out hardcore together, which is a guilty pleasure neither of get to indulge in with many other people in each of our respective lives.
Katie is also an amazing photographer. You should check out
her work
. As a blossoming photo whore, it's great having a friend with such an eye and skill as Katie.
We went on a photo journey down Skyline Drive through Shenandoah National Park. We called this shoot "Vintage Tourism" though I think it should be expanded to "Vintage Tourism at the End of the World" due to the photo vibes.
The weather started off lovely and we got some charming views of Virginia in the fall.
I also got a chance to break out my Lady Coat I made along with
Gertie's
sew along.
With my 30s pseudo fedora, I feel like some noir star. I want to say Lauren, but only because she is my always inspiration, but I think it's more Ingrid.

In case there was any doubt that I was an autumn baby.
We saw a deer. I decided I was going to be a cougar and eat it. Gendered jokes welcome.
I was either channeling an elf here or searching out the Satanic cult in the woods.
Waiting for my man.
Character in a Faulkner novel. Probably going to get knocked up and try to seek out an illegal abortion.
End of the world 1.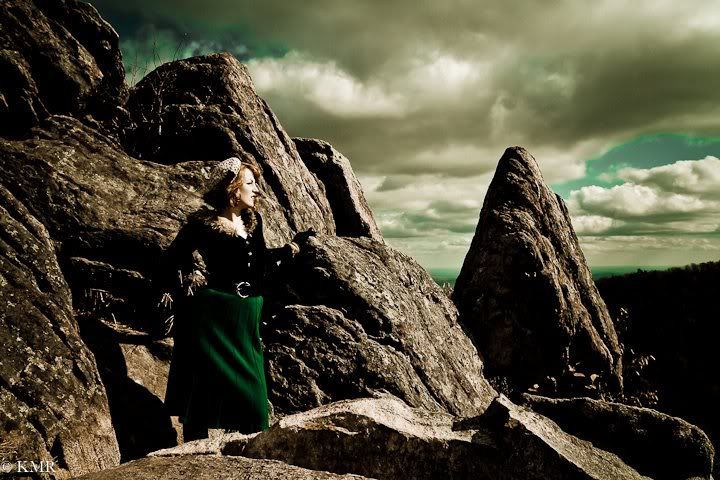 End of the world 2. In a worst case scenario I would seek shelter, find food and make fire all while looking this good.
I would surprise attack from the rocks like so.